Skip to Content
About Lomeli Statuary in Lodi, CA
At Lomeli Statuary, we take pride in helping customers and making them smile. Our business has been operating for over 30 years, with our sons, daughters carrying on the Lomeli name with pride. We're content that our family will continue to pass on our name to their children for another 30 years. If you need help finding the perfect creative piece for your home or business, we'll gladly guide you through our garden to select one or more and deliver them to your property throughout the Bay Area. You can enjoy years of use and beauty from our selection of fountains, benches, tables, wall art, iron sculptures, cement sculptures, and garden gazebos. Our location specializes in service for Bay-Area and Central Valley customers, but people throughout the state have come to visit our garden and explore our collection of impressive pieces.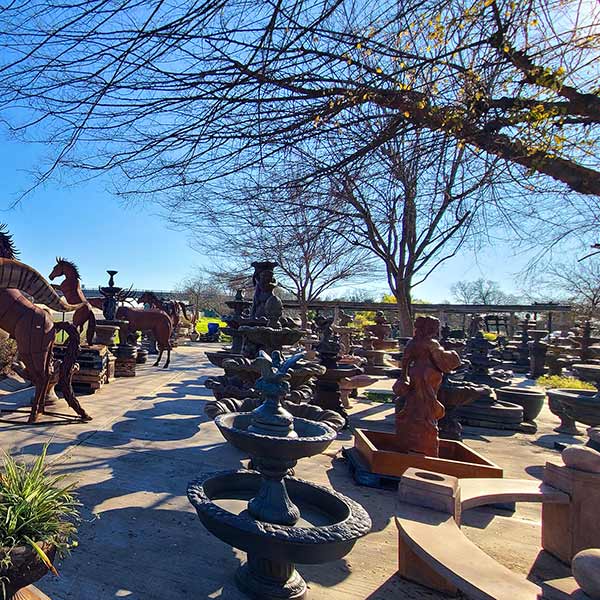 Artistic & Practical Pieces for Outdoor Enjoyment
You can see a broad range of creative and captivating pieces at Lomeli Statuary's garden. We offer homeowners and business owners many options to decorate their outdoor space with beautiful and practical choices, including the following:
Fountains
Find a perfect fountain for your outdoor space and enjoy the soft trickling and gurgling of water in motion.
Statuary
Our cement statues include a wide array of creative sculptures to place in your garden, on your front stoop, or anywhere else you want to add an artistic touch.
Benches and Tables
We have many styles, colors, and sizes in cement benches and tables for you to consider for your backyard, garden, or courtyard.
Gazebos
A gazebo is an excellent structure where people can congregate and socialize. You can place a table in yours to host meals, play games, or enjoy the surrounding landscape.
Oriental Statuary
If you favor artistic pieces reflecting religion or culture in Asian countries, our oriental statuary includes a wide array of options, including Buddhas and Foo Dogs.
Iron Pieces
We have beautiful iron pieces available in various sizes, ranging between three and ten feet in size. You can see horses, dinosaurs, and many other sculptures in our garden.
Looking Forward to Serving You
Lomeli Statuary enjoys helping customers find outstanding additions to their outdoor collections, whether they want an artistic touch or durable gazebos in their gardens. Let us show you how our decades of commitment to quality outdoor décor solutions work in your favor when finding a new focal piece for your property.
Add Life and Art to Your Home or Business