Skip to Content
Lomeli Statuary Offers Customers Beautiful Gazebos
You probably take pride in your estate and its grounds. The grass, flowers, shrubs, and decorative features all create a visually pleasing and comfortable outdoor environment. Lomeli Statuary can help you enhance your outdoor enjoyment in Central Valley and the Bay Area with a gazebo from our Lodi, CA-based company. Our gazebos are second to none, and we design them for properties of various sizes, including expansive outdoor spaces and more modest yards. We will gladly educate you on our wide array of gazebo sizes and help you select the one fitting your aesthetic style and outdoor space. Once you find the perfect piece for your home or business, we deliver it and set it up anywhere in the Bay Area.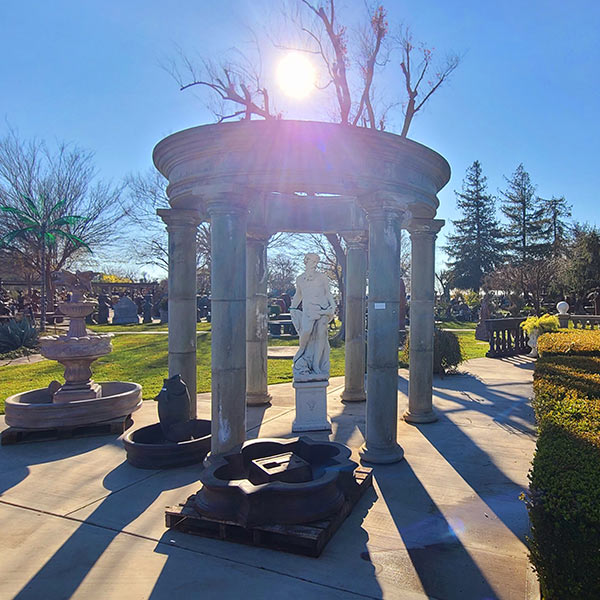 Reasons to Add a Gazebo to Your Property
Lomeli Statuary can give you many reasons to add a gazebo to your backyard. We've described some compelling benefits below:
Gazebos Can Fit Almost Anywhere
These outdoor features come in various sizes and shapes, such as ovals, octagons, and rectangles. You can select a small or large gazebo in any available shape to fit any outdoor space. A gazebo can go on your patio to provide shade and beauty, or you can set it up by your pool as a relaxing sitting area.
You Get an Outdoor Dining Area
Depending on your gazebo's size, you may choose to place a table and chairs in it for meals with family, friends, and guests. Our pieces' durable construction and beautiful designs make them a safe and scenic place to dine, day or night. If it starts raining, you have a roof over your head.
They're a Perfect Entertaining Space
You often find gazebos in communal spaces like town squares and parks because they are naturally inviting. People are drawn to gazebos to gather and socialize, and you can put that same appeal in your backyard. You can set up a table and chairs for more than dining. Your family and guests can play games or just enjoy the fresh air and surrounding landscape.
Gazebos Add Style to Your Backyard
Our selection of gazebos includes a wide array of styles to consider. We can help you find a piece matching your style, whether you lean toward a more conservative feel or embrace an extravagant showpiece. Gazebos extend your living space and add beauty and function to your backyard.
Your Property Value Can Increase
Gazebos increase your property's overall appeal in many ways, leading to a potentially higher property value. For instance, you won't find a gazebo in every backyard, making them a unique feature. Gazebos are also extended living spaces, and you can add lighting, furniture, and other features to them. These structures can also make your home more attractive to home buyers, which could result in higher offers.
Serving Central Valley & Bay-Area Estates
IF you're ready to add more outdoor living space with a stylish and durable feature, Lomeli Statuary can show you our selection of gazebos. We're ready to help you make the most of your backyard.
Add Life and Art to Your Home or Business