Skip to Content
Comfortable Outdoor Benches in Lodi, CA
If you want to enjoy your outdoor spaces and beautiful landscaping, you might want a place to sit and relax. Your early morning coffee and lunchtime people-watching deserve a seat with as much thought to its durability as to its appearance. Lomeli Statuary can help you adorn your home or business's outdoor areas with high-quality benches at our Lodi, CA location. We have a selection of cement benches and cement patio tables available to act as your yard's artistic centerpiece. You can sit comfortably and enjoy the scenery around you. Our large selection comes in various sizes, colors, and styles to fit your aesthetic taste and outdoor dimensions. With our expert guidance and delivery services in the Bay Area, you can put an excellent feature in place at your home or business.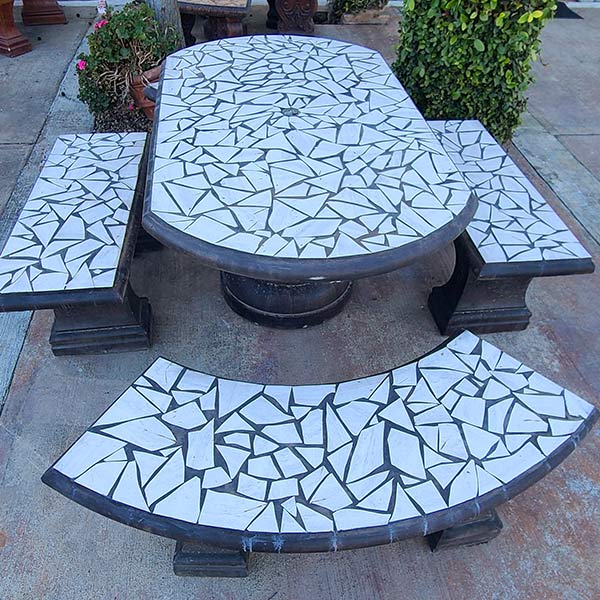 Attractive Designs & Durable Construction
Our variety is part of the appeal of shopping for cement benches and tables at Lomeli Statuary. We have seating options in a wide array of sizes to ensure you can fit your new addition in your backyard, courtyard, or anywhere else and have enough seating for people. Your aesthetic style and design goals are as important as your new benches and table's dimensions. Our team can show you a broad range of suitable choices in different colors, shapes, and styles, whether you favor a simple, gray design or a bold, colorful showpiece. Every piece we sell is made with exceptional workmanship and high-quality cement and materials.
A Perfect Perch for Homes & Businesses
You can put a beautiful new table or bench anywhere around your outdoor spaces, including around walkways, patios, and under shady trees. Lomeli Statuary's durable, long-lasting, and attractive cement pieces add class and comfort at your home or business wherever you think people might want to sit and relax. Our company proudly welcomes customers throughout the state to peruse our onsite selection of artistic and practical pieces. If you're in the Bay Area or Central Valley, you can take advantage of our sales and delivery services. We will bring your pieces to your location and set them up so that they're ready to use immediately.
Add Life and Art to Your Home or Business