Skip to Content
Lomeli Statuary's Fountains Add Peace & Beauty
At Lomeli Statuary, we proudly offer a broad range of beautiful fountains to Bay-Area and Central Valley communities for their homes and businesses. Customers travel from everywhere in the state to look through our garden in Lodi, CA. Our large selection consists of a wide variety of styles, including oriental, cascading fountains, three-tier fountains, spouting fountains, and many other options. All our pieces are made with high-quality workmanship, and we offer fountain delivery and setup.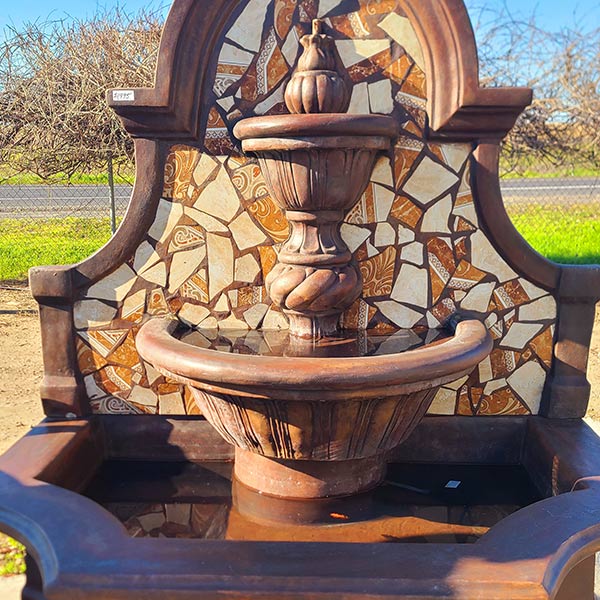 Benefits of Having a Fountain at Your Property
Lomeli Statuary recommends adding a fountain at your property for many reasons. Their alluring designs and trickling water can be a delight to your senses while adding intrinsic value to your front yard, backyard, or any other space. We've described some typical benefits of having a fountain:
Relaxing Sound and Ambiance
A fountain offers soothing sounds of water falling, gurgling, and trickling, and you can add flowers and plants around it to enhance your sensory experience. The relaxing, ambient sounds and beautiful fountain design are a welcome escape from your daily troubles. We can deliver and set up your fountain anywhere you have a water source.
Drown Out Unwanted Noises
If your property is by a busy street or your neighbors have loud get-togethers, you can drown out the unwelcome noises with a fountain's relaxing water sounds. A fountain can lessen the intensity of loud music, honking cars, and other noises to give you a tranquil space in your backyard, front yard, or building courtyard. You can choose a fountain design and size fitting your space and aesthetic style.
Attractive Indoor or Outdoor Décor
Keeping your landscaping in top condition takes a lot of work, costing you weekends, money, and undue stress. Instead of continually digging, weeding, and seating away your leisure time, you can immediately add beauty to your outdoor space with a fountain. Our options come in many sizes, colors, shapes, and styles to fit your artistic needs and create a specific look and feel.
Watch Wildlife
Even if you're not a bird enthusiast, you can still take pleasure in watching local aviary wildlife drinking and bathing in your beautiful fountain. Neighborhood wildlife may congregate in the early morning while you perch at your back window, and larger animals may find their way to your front or backyard. Additionally, fountains can discourage mosquitos and help with pest control.
Delivery in Lodi, CA & the Bay Area
Are you ready to beautify your property with an attractive, new water feature? Lomeli Statuary will help you select the perfect fountain for your space, bring it to your property, and get it running.
Add Life and Art to Your Home or Business