Skip to Content
Impressive Iron Pieces for Bay-Area Outdoor Spaces
Millions of drivers who travel by Lomeli Statuary's location in Lodi, CA have already seen our garden and some of the extraordinary iron pieces we have. If you've ever seen the iron dinosaur while driving on Freeway 99, you know where we are and have an idea of what we offer. Our garden includes astounding three- to 10-foot iron sculptures of various animals and artwork, such as horses and dinosaurs. We gladly offer these iron pieces because of their classic elegance, expert craftsmanship, and durability to stand up to outside elements. Your home or business's outdoor spaces might be a little dull and lifeless, but adding one or more of our statues and sculptures is an excellent way to add beauty and energy.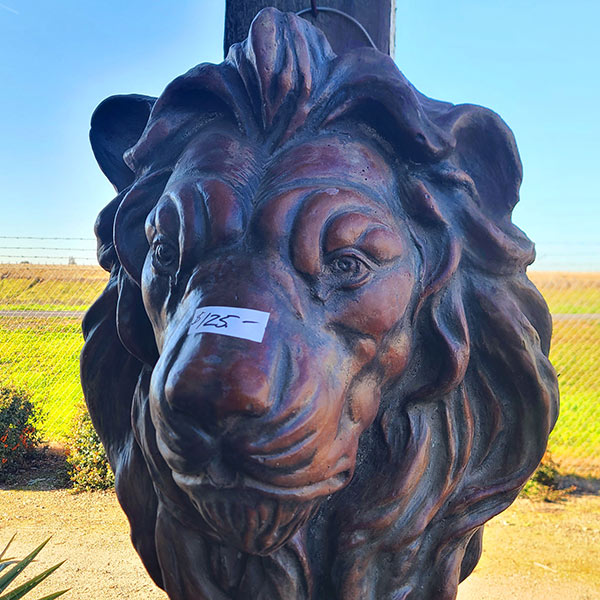 Iron Artwork From Lodi, CA to Your Property
Lomeli Statuary offers delivery throughout the Bay Area, and people from locations throughout the state have visited our garden to see our creative pieces. Our iron pieces are suitable for any space to add life and beauty, including the following options:
Courtyards
If you have a courtyard on your property that's barren or needs a touch of artistic flair as a focal point, an iron statue or sculpture works well. The impressive craftsmanship and beautiful aesthetics will captivate visitors. You can place a large piece in the center of your courtyard to draw people in or line its perimeter with stoic statues.
Gardens
Iron artwork is an excellent way to complement your plant life's natural beauty with a creative metal counterpart. Placing statues of animals and other figures around your garden can give it a more playful feeling or achieve a landscape that incites calmness and serenity. We have various sizes for you to consider and fit into your outdoor space.
Lobbies and Entryways
Both residences and businesses can have entry areas where people congregate when first arriving. Their attention and imaginations will be captured when looking at a sculpture of an animal greeting them from its perch. You can select a smaller iron piece for a more modest décor or a large, 10-foot-tall creature of the wilderness or Jurassic to really catch their eyes.
Front Yards
If you want to capture the attention of neighbors and passersby, placing an iron statue in your front yard can enhance your property's appearance. Imagine a large, iron horse wandering your grounds and watching over it. [site-options field=privacy_company_name]'s team can show you a wide array of iron options when you visit our garden.
Add Life and Art to Your Home or Business